MyNeev Innovations is an education company started by experienced educationists to leverage their experience and benefit individuals and the community. It is a company incorporated with a Heart On, Head On and Hands On approach.
At MyNeev Innovations we endeavor to make individuals realize their potential and build a bright future for themselves through self-discovery, independent learning and skill enhancement.
Our goal is to empower individuals to be empathetic, creative, and
proactive learners thus opening new doors of opportunities.
Our Partners: 
Build the Future Program is our flagship program
This is a program built with the vision to help individuals understand, learn, grow and achieve success in life.
It is based on the principles of Self-directed Learning and Design thinking. Where the student takes the ownership of his learning and future.
The program further scaffolds and guides the individual, building his capabilities and opening avenues of best courses in the best universities, guiding and handholding throughout.
Further, the aspect of community building and collaboration opens doors to business opportunities in his immediate vicinity and beyond.
How do we do it
The first Session is with the management and faculty to frame the design challenge.
Next, we conduct a workshop for students on self –discovery, design thinking and opportunity building.
Then the last and the most important component of Online sharing and learning Community is
conducted.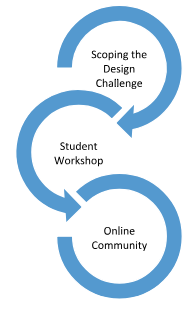 Student Workshop Components
Self-discovery
Self- worth and understanding is built through a structured approach as they are the first step to
success.
Design Thinking
Students acquire Creative Thinking, Critical Thinking, Communication, Collaboration, Leadership and
Entrepreneurship skills: essential to make them confident, self-employable and ensure a prosperous life
for themselves.
Opportunity building
Understanding that opportunities need to be built. Learning how to create opportunities and open new
doors of learning and employment.
Community building
The importance of community, of coming together to conquer. Collaboration and communication is
the key to success.
Life Long Learning without boundaries – an important component of the community.
Here we handhold the students to take the best courses in the best universities and build their future.